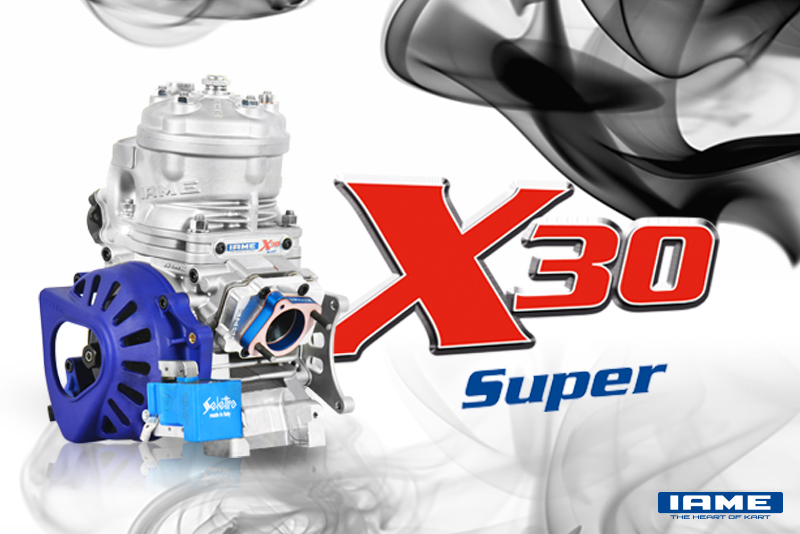 X30 Super
IAME is pleased to introduce the latest engine from its world renowned stable: the X30 Super!
Engineered around the experience achieved in 9 years of KF engines, the X30 Super merges all the successful characteristics of the multiple winning Reedster engine with the practical solutions of traditional stock class engines, combined with the new impressive 175cc displacement providing massive torque/power output, without the adoption of an exhaust power valve.
The new "State of The Art" X30 Super features electric starter, centrifugal dry clutch, counter balance shaft, water cooling circuit operating in both cylinder and crankcase, external water pump, reed block with carbon reed petals, CNC inlet manifold, simple electric plant with "Start/Stop" buttons, combined electronic box/ignition coil, specific exhaust muffler and a carburetor expressively engineered around the engine.
With a maximum torque value of 26 Nm and 43 horse power, the X30 Super promises to satisfy the most demanding and challenging drivers around the world.
All components and solutions of the X30 Super have been innovated around the "Be Extra" claim. Extra performance, Extra power, Extra fun, Extra emotions, Extra reliability, Extra ordinary!
The X30 Super is the only 2-stroke engine on the market offering the power and driving experience of professional high-end Karting engines, yet providing simplicity of use and long service intervals, meaning satisfaction is guaranteed for both pro and hobby drivers.
The launch of the X30 Super class will start where the need for higher performance is most alive and the level of Senior drivers demand is enough to welcome such an innovation.
The X30 Challenge Europa, the X30 Euro Series and the IAME International Final will host the X30 Super class with limited entries, alongside with the X30 classes open to a larger number of drivers.