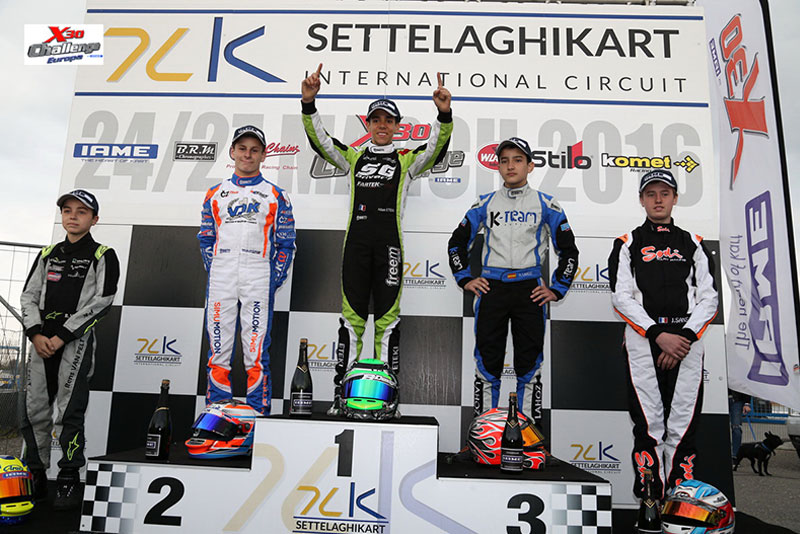 X30 CHALLENGE EUROPA 2016
The 7 Laghi circuit in Italy welcomed 247 drivers from all around the World to contest for the X30 Challenge Europa title!
With a format slightly different to usual meetings, in the sense that after the heats are done 34 drivers would go through to the A Finals and the rest would be in the B Finals, the heats become even more crucial over the weekend!
X30 Junior
Race 1
Chris Lulham is forced to be reckoned within the first A final. From the outside of the front he has a poor start and drops back to 5th. But he makes a quick work of Petelet, Callum Bradshaw, Eteki and Malukas to take the lead and establish himself a comfortable gap.
Behind Eteki pass Malukas for 2nd and the pair try to work together to catch the Brit but they are unsuccessful and in the end have to settle for podium positions.
Bradshaw is clearly down on pace in comparison to the top 3 and his 4th place starts to come under threat going into the last couple of laps from Alejandro Lahoz Lopz and Petelet but he is just about able to hold on.
Race 2
In the second final Chris Lulham's dominance disappears somewhat. He drops back to 4th in the early stages before his race ends with what seems to be a flicked chain. So disaster for Lulham, but he isn't the only one struggling. Adam Eteki also doesn't show the same pace he did in Final 1 and is now fighting for the lower order of the top 5 rather than the lead. It is now Malukas and Bradshaw who are fighting for the lead and after a few overtakes in the space of a couple laps they are joined by French driver, Victor Martins.
During the battle for the lead Malukas overtakes Bradshaw under a yellow flag, he gives the place back on the next lap but he s excluded after the final despite winning the race. Bradshaw is also excluded for re-passing Malukas under a yellow despite the fact that Malukas was giving him the place back, frustrating for the pair of them after they both drove great races!
Victory goes to Victor Martins. After a great battle with Bradshaw he is able to eventually break clear in 2nd and that becomes victory after the race. Second place goes to the hard charging Rens van Pelt with Adam Eteki taking 3rd.
X30 Senior
Race 1
The first final of the X30 Senior's is one of the most dramatic ends to a race we have ever seen!
For the most part, it has been a much more closely contended race than the Juniors. We have as many as eight in the lead group including Oliver Hodgson, Vincent Fraisse, Carlos Leon, Vittorio Russo along with Hugo Bentley-Ellis and Euan Wilson.
Baudot takes the early lead away from Oliver Hodgson who is dropping down the lead group fast as he struggles to get into any sort of rythm.
But the defending World Champion, Vincent Fraisse, is the man who looks most threatening in the early stages and just after the half-way point he takes the lead away from his country man.
With the lead group now stretched, Russo manags to come from the back of it to 2nd and he is soon past Fraisse bringing Baudot and Hodgson with him.
Going onto the last lap, with Fraisse and Hodgson fighting for 3rd, Russo and Baudot are left to battle for victory. Baudot takes the lead going into turn two but on the exit of the penultimate corner Russo gets the run on the French man and with neither driver prepared to give up they came together leaving Fraisse to take victory with Hodgson 2nd and Barbarin 3rd.
Race 2
The busiest driver at the start of race two is certainly Saul Robinson! From 16th on the grid he is picking one or two drivers off every lap before reaching the lead pair of Barbarin and Fraisse. It takes him two attempts to pass Barbarin which unfortunately means he loses touch with Fraisse and is never able to catch him.
Fraisse goes on to win by 1.6 seconds, but it isn't quite lights to flag as Hodgson leads at a time but it is still dominant by the Sodi driver.
Towards the end of the race Saul Robinson's pace seems to fall off and that allows Hodgson to re-pass him giving him 2nd, but Robinson we are sure would still be satisfied with a solid podium finish!
Euan Wilson drives an absolutely fantastic race to take his 4th place. After a fairly poor start he is always one step behind Saul Robinson and is able to follow the Fusion driver up towards the podium places. His 4th place comes under threat from Barbarin and Bonnetto towards the end but he is able to do enough to hold on.
X30 Super
French driver Kevin Breysse absolutely dominats both finals in the X30 Super class. From pole he is hardly challenged in both races and goes  on to win by just over a second in both.
His nearest challenger comes in the form of Victor Compere, he is able to get within a tenth of Kevin's best lap time in both races but over 20 laps that allow Kevin to pull out that one second cushion helping him to win.
The podium places are shared between Thomas Ricci and Maxime Potty with Mark Litchfield battling closely with them in both races.
X30 Super Shifter
This event is dominated by the Italian Matteo Vigano. However things are not as easy as they may seem.
In race one Matteo is run all the way to the flag by his fellow Italian Renda Pollini in the end just winning by 0.2 seconds.
In race two he has even more company as the pair is enjoyed by a third Italian, Lorenzo Lapina. The trio stays together all the way to the flag but it is Vigano who is victorious with Lapina 2nd and Pollini 3rd.
Scott Allen shows tremendous pace all weekend and for lap times is able to match Vigano at times but he is caught up in battles down the lower order of the top 10. Despite this he manags a 8th in race one and 7th in race two.
X30 Master
After his top 10 finish in the Worlds last year, Graham Hill is always going to be considered as a strong contender for this event but we were not expecting the pure dominance the Brit showed.
He absolutely wipes the competition and is hardly challenged in both Race 1 and 2 on Sunday as he cruises to take a memorable double victory.
Race 1 sees Hill quickly establishing himself a lead before going on to win by 6.9 seconds.
Race 2 is a very similar story with the Brit going on to win 3.3 seconds despite absolutely cruising round for the last lap.
His nearest challengers Wilfried Le Carpentier and Nicolas Duchateau in race one and Gerard Cavalloni and Wilfried Le Carpentier in race two.