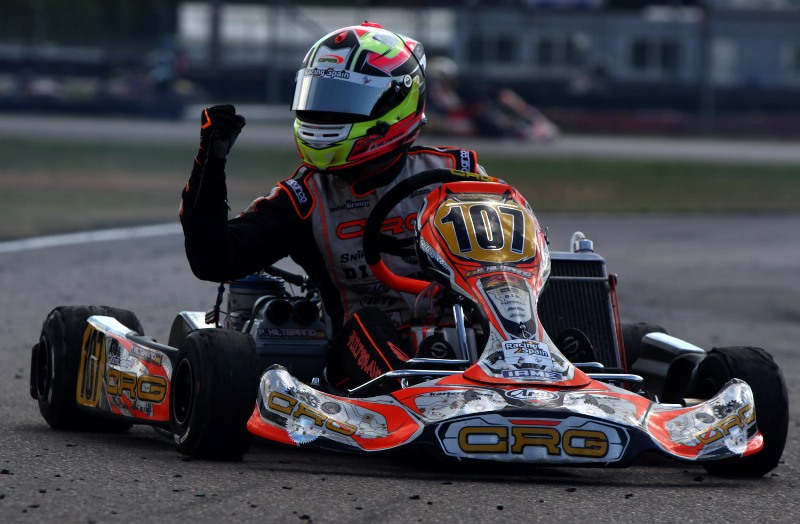 PEDRO HILDBRANDT & IAME OK EUROPEAN CHAMPIONS 2016
July 31st – Genk (BEL) – CIK/FIA EUROPEAN CHAMPIONSHIP OK/OKJ – KZ/KZ2
The International circuit in Genk (BEL) hosts the last and decisive rounds of the CIK/FIA European Championships for OK/OKJ and KZ/KZ2. IAME is European Champion in OK with Pedro Hildbrandt (CRG) and collects many more important results.
OK
Despite finishing the final round in 2nd place, the talented driver Pedro Hiltbrand (CRG/IAME) is European OK Champion in front of Tom Joyner (Zanardi/IAME) whom is only 10 points far from the Spanish driver. With respectively the 2nd and 4th place in the Final in Genk, the two IAME drivers conquer the highest steps fo the podium, confirming their constancy along a very hard fought season. Well done!
Marta Garcia Lopez (Evokart/IAME) finishes 4th in the overall standings of the series, showing great will, determination and a great talent.
OKJ
Martin Victor (Kosmic/IAME) is the winner of the Final race in Genk and is 3rd overall in the classification of the European Championship! Very big compliments for the well earned result in such a challenging and highly competitive class, only 4 points far from the leader. Very well done also for Teddy Wilson (CRG), able to recover from the 11th place of the pre-final, to the 3rd step of the podium in the final.
KZ2
Italian Matteo Viganò (Top Kart/IAME) flies all over the week-end! From the 6th place after the qualifying heats he climbs up to victory in Pre-Final 2, Pre-Final and Final, as well scoring the best lap! What an amazing triplet! 3rd step of the European podium for him, only 10 points far from the champion!